Tata AIG Health Insurance offers comprehensive medical cover for all its customers. It also provides cashless facility at over 7000 hospitals across India. The company has been ranked among top 10 companies by Forbes magazine for the last three years.
Before going into detail about TATA AIG Health Insurance, let's answer some common questions regarding Health Insurance?
What is Health Insurance?
Health insurance is a sort of insurance that helps pay for medical and surgical costs. It accomplishes this by covering some or all of the policyholder's expenses. Employer-provided health insurance, private insurance, and government-provided health insurance are all options.
There are numerous types of health insurance plans, but they all have the same goal: to help policyholders in covering the costs of their healthcare expenses.
Some policies are more comprehensive than others, but all plans cover medical expenses in some way. The amount of coverage offered by a plan is determined by a variety of criteria, including the type of plan, the insurer, and the applicable government requirements.
One of the primary advantages of having health insurance is that it can help make healthcare more affordable.
Medical bills can be insanely expensive, and many people would struggle to pay for them without health insurance.
People can manage their medical bills and ensure that they will be able to afford expenses if they need to see a doctor or go to the hospital if they have health insurance.
Another advantage of health insurance is that it can provide peace of mind in the event of an accident or illness.
Nobody knows when they will become ill or wounded, but with health insurance, you can rest assured that you will be financially protected if something goes wrong.
This can provide you with peace of mind and allow you to focus on getting healthy rather than on how you will pay your medical bills.
So, it's always best to have health care insurance that can be any type of health insurance such as individual health insurance, family insurance, but please have your health insurance.
If you find health insurance expensive you may look for affordable health insurance. There are many affordable health insurance plans are available in the market. But, have it.
What are the Types of Health Insurance?
Many different types of health insurance exist that vary in terms of benefits and coverage.
Health insurance can be obtained through your job or a private company, government agency, or insurance provider.
Individuals and families can choose from a variety of health insurance options. Employer-provided health insurance is the most frequent type.
As an employee benefit, several companies provide health insurance. Individual plans, family plans, and government-sponsored programmes or plans are examples of other types of health insurance.
Employer Provided Health Insurance Plan
The most prevalent sort of plan is one provided by an employer. These plans are typically provided through a group policy, which means that the employer enters into a contract with an insurance company to provide coverage to all competent staff.
Employees pay premiums and co-payments payments for services under employer-sponsored plans, which typically cover a part of the cost of medical care. Some companies additionally provide extra benefits such as dental and vision coverage.
Individual Health Insurance Plan
Individual health insurance policies are acquired directly from insurance companies by individuals or families.
These plans can be tailored to the needs of the individual or family and are frequently less expensive than employer-sponsored plans.
They do, however, frequently have larger deductibles and out-of-pocket expenses than employer-sponsored policies.
Family Health Insurance Plan
Family health insurance policies are similar to individual plans in that they cover more than one person.
Family plans are often more expensive than individual policies, but they might provide more comprehensive coverage.
Government Sponsored Health Insurance Plan
Low-income people and families who cannot afford private health insurance can get coverage through government-sponsored health insurance programs or plans.
These programs are often less expensive and provide limited benefits than private health insurance plans.
Why do you need Health Insurance?
With the ever-growing costs of healthcare in our nation, as well as the increasing incidence of diseases, health insurance is now essential.
Health insurance provides customers with a much-needed financial safety net in the event of a medical emergency.
When you get health insurance, the insurance company promises to cover costs such as medical tests, doctor consultation fees, medications, hospitalisation charges, and even pre and post-hospitalization care.
It aids middle-class families in avoiding financial problems caused by a medical emergencies.
You may have to pay for all of your medical expenditures from your cash if you do not have health insurance, which can be very costly.
Even if you make good money, an unexpected medical emergency can cause serious financial problems. Health insurance can help shield you from such financial difficulties.
Health insurance, in addition to protecting your finances, enables access to higher-quality medical care.
You can choose from a greater variety of doctors and hospitals with health insurance than you would without it. You also don't have to worry about how you'll pay for treatment if you become ill or injured because your insurance will cover it.
As you can see, there are numerous benefits to having health insurance. It can help you save money, give you peace of mind, and allow you access to higher-quality medical care. If you do not currently have health insurance, now is the time to obtain it!
Now, let me introduce you to TATA AIG Health Insurance company that is TATA AIG General Insurance Company Limited.
Tata AIG General Insurance Company Limited
The Tata AIG General Insurance Company Limited is a partnership between the Tata Group and the American International Group (AIG).
Since its inception on January 22, 2001, Tata AIG General Insurance Company Limited has celebrated 20 years of service as of 2020.

Over the years, the company has made a name for itself in the industry by introducing several innovative products and services.
TATA AIG is India's leading health insurance company which is committed to transforming the healthcare experience.
It offers a wide range of health insurance plans including maternity, dental, hospital, and medical insurance plans.
In addition, the TATA AIG offers value-added services such as health check and health access providers, lifestyle management services, and preventive care and disease management programs.
This company wants to provide an innovative comprehensive healthcare plan for you and your family at the lowest price.
Their plan covers all your basic needs, including the protection of elderly care. Furthermore, they also offer assistance with patient services and treatments while understanding their market needs.
You'll also find special mandates and discounts coupled with their offers like the Tata AIG Health Insurance policy you buy today on their website.
TATA AIG Health Insurance Advantages
Tata AIG's health insurance plans have numerous wonderful advantages that make them a good alternative for your health insurance needs. The following are some of the key advantages of this health insurance policy: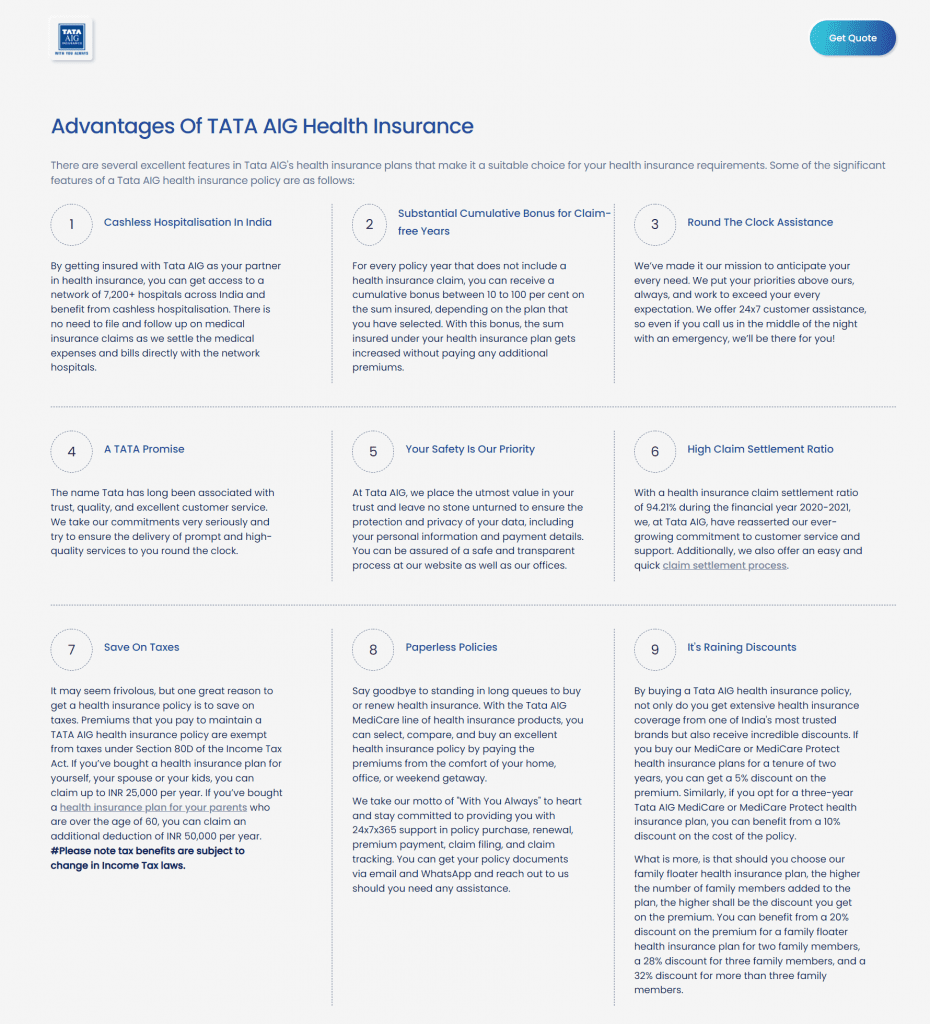 Huge network of Cashless Hospitalisation in India
By insuring yourself with Tata AIG as your health insurance partner, you may have the benefit to access a huge cashless hospitalization network of over 7,200 plus hospitals throughout India.
TATA AIG settles medical expenditures and invoices directly with network hospitals, eliminating the need to file and follow up on medical insurance claims.
Significant Progressive No Claim Bonus for Claim-Free Years
Depending on the plan you choose, you can get a cumulative or progressive bonus ranging from 10% to 100% of the sum insured for each policy year that does not include a health insurance claim. This bonus increases the amount protected under your health insurance plan without requiring you to pay any additional premiums.
All-Time Assistance
TATA AIG has made their goal to anticipate all of your requirements. They consistently emphasize your needs before our own and strive to surpass your expectations and so, they provide you customer service 24 hours a day, seven days a week, so if you reach them in the middle of the night with an emergency, they will be there for you!
Trustability of TATA Company
Tata has always been recognized for trustworthiness, quality, and exceptional customer service.
TATA says "Your Safety Is Our Priority"
At Tata AIG, your trust and go to great lengths to maintain the security and privacy of your data, including your personal information and payment information is important.
High Claim Settlement Ratio
During the budget year 2020-2021, the health insurance claim settlement ratio was 94.21%.
Paperless Health Policies
Say goodbye to waiting in huge lines to purchase or renew health insurance. With the Tata AIG MediCare range of health insurance products, you may choose, compare, and purchase outstanding health insurance coverage while paying the premiums from your home or workplace.
Discount on TATA AIG Health Insurance Policy
If you purchase this health insurance policies for two years, you will receive a 5% premium reduction. Similarly, if you choose a three-year Tata health insurance plan, you will receive a 10% discount on the policy's cost.
For two family members, you may get a 20% reduction on the cost for a family floater health insurance plan, a 28% discount for three family members, and a 32% discount for more than three family members.
Why you should go for TATA AIG Health Insurance?
Coverage of Consumables items
If you are admitted to the hospital, this Health Insurance Plan will cover the cost of consumables items.
These consumables items are any surgical and medical consumables or equipment that is billed to you, in addition to the hospitalisation fees.
Unfortunately, many health insurance companies fail to do so, but this health insurance company does.
Coverage Across the Globe
You may add Global/Worldwide Cover to your health insurance to be covered for treatment of any ailment or condition anywhere in the world.
If you are diagnosed with a disease in India but prefer to seek medical care and hospitalisation elsewhere in the world, this insurance can assist you with the costs.
Maternity Coverage Benefits
Upon adding Pregnancy Cover to your Health Insurance policy and after a four-year waiting period, you may get maternity cover up to Rs. 50,000 for each policy year.
By God's grace, if the birth is a girl, TATA AIG will extend the coverage up to Rs. 60,000.
Newborn Coverage Benefits
If your newborn infant requires medical assistance due to problems during delivery, the Newborn Cover will pay up to Rs. 10,000 for the necessary medical treatment.
But it is covered up only after the maternity claim is granted.
OPD Coverage
After a two-year waiting period, TATA AIG OPD coverage will help you cover up to Rs. 5,000 of these OPD expenditures for each insurance year.
Automatic restoration of Sum Assured Amount
This feature enables the automatic reloading or restoration of your sum insured amount if you have exhausted it in a single insurance year due to a medical emergency!
Various TATA AIG Health Insurance Plans
TATA AIG offers a wide variety of health insurance plans. They are:
Individual Health Insurance
Family Health Insurance
Super Top-Up Health Insurance
Critical Illness Health Insurance
Personal Accidental Insurance
Coronavirus Health Insurance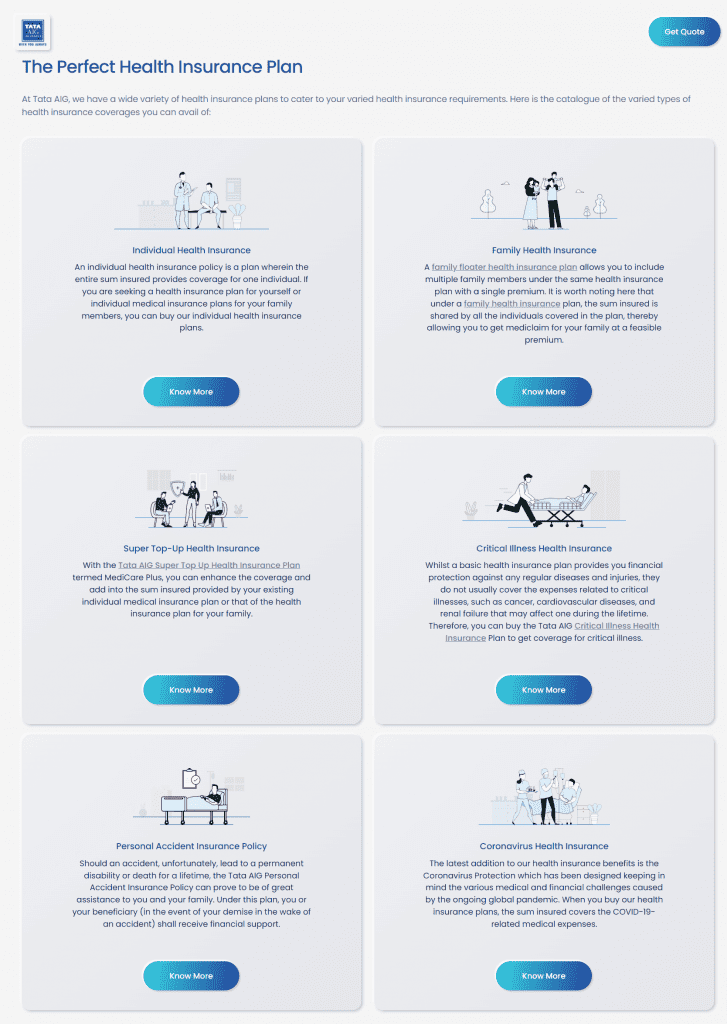 Benefits of TATA AIG Health Insurance
There are numerous advantages to getting TATA AIG health insurance. One of the most crucial is that it can help pay for medical care.
This is especially critical if you have a chronic sickness or condition that needs to be treated on a regular basis. Another advantage is that it can help you get better medical treatment. This is because TATA AIG works with a network of trustworthy medical providers.
Finally, having TATA AIG health insurance can provide you with the piece of mind that you and your family are protected in the event of an accident or illness.
Numerous TATA AIG Health Insurance benefits are:
No limit on hospital room rent
Maternity coverage
Pre & Post hospitalisation coverage
Coverage of Pre-existing illness
Cashless claims
Tax benefits under Section 80D
Ambulance coverage
AYUSH coverage
Daycare procedures coverage
Covid-19 coverage
Hospitalisation expenses coverage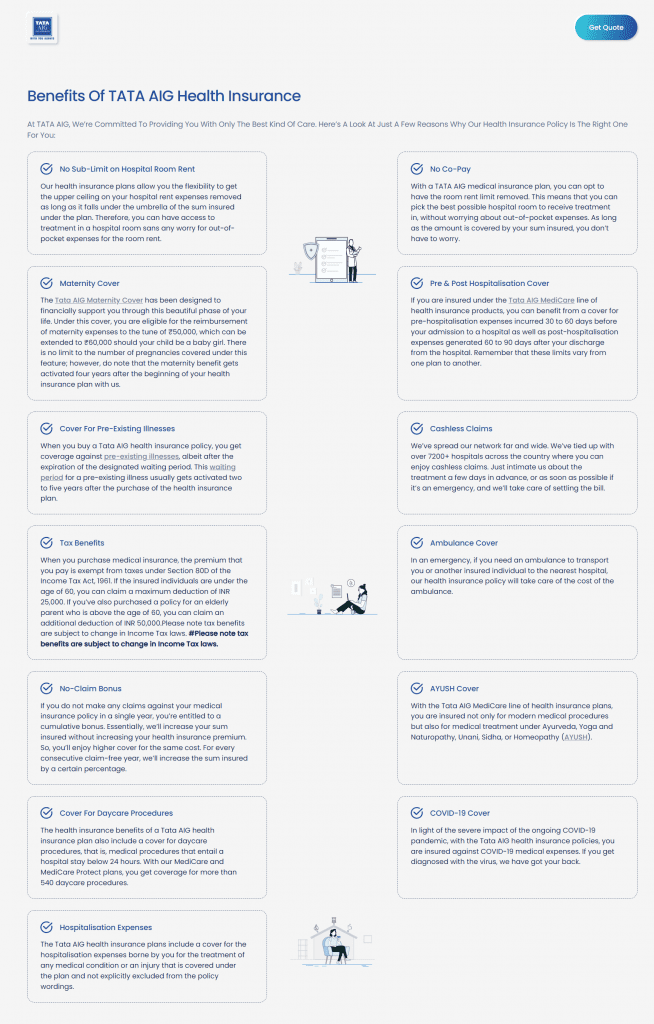 If you see there are ample benefits of having TATA AIG health insurance plan to protect you and your family.
So, what are you waiting for?
Yeah, we get that, you might be thinking about the hospital network attached to TATA AIG health insurance plans.
Hence, let's see about the wide range of hospital list attached to TATA AIG, then you might consider buying it.
TATA AIG Health Insurance Hospital List
Tata AIG Health Insurance provides health insurance coverage in India to individuals and families. The company provides a variety of health insurance plans, including hospitalization, maternity, critical illness, and others.
Tata AIG also has a network of over 8000 hospitals across India that provide policyholders with cashless care.
Apollo Hospitals, Fortis Healthcare, Max Healthcare, and Narayana Hrudalaya are among the top hospitals in Tata AIG's network.
These hospitals offer high-quality medical care and are outfitted with cutting-edge equipment. Policyholders can receive cashless treatment at these hospitals and do not have to pay for their medical expenditures out of pocket.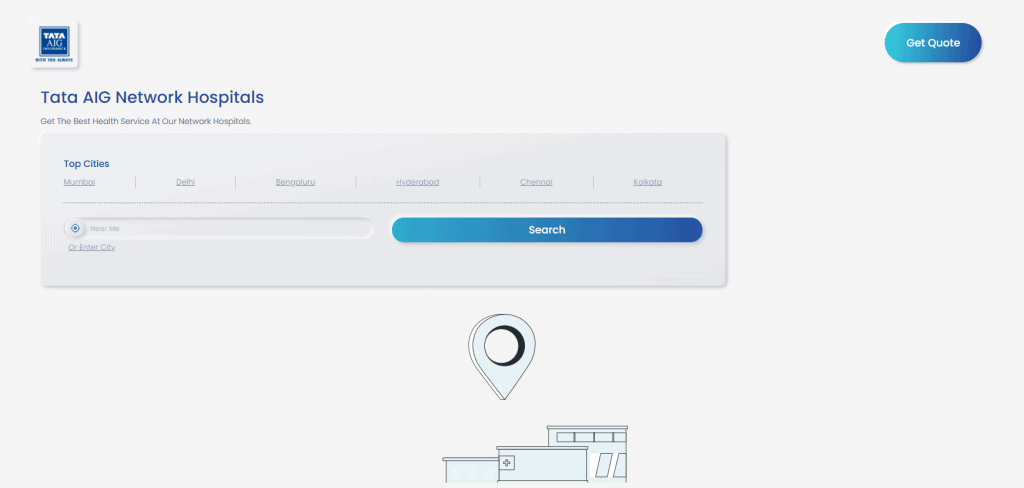 You can easily search for cashless hospital network for this health insurance policies, just by clicking on this link.
What's not covered in TATA AIG Health Insurance?
There are a few things that are not covered in TATA AIG Health Insurance.
There are mainly two categories, Medical exclusions and Non-Medical exclusions.
Briefly, medical exclusions are mainly cosmetic surgeries or plastic surgeries, private or long term nursing care, vaccination and immunizations, foods provided by hospital for RT feeding (nasal tube for eating), experimental treatments, HBO (Hyperbaric Oxygen Therapy), etc.
Non-Medical exclusions include, unrelated x-rays and laboratory reports, items utilized or consumed for your own comfort such as television, phone services, internet services, foods, beauty products charged by hospital, any doctor consultation from outside of hospital network, etc.
Please refer to the below image for details information on what's not covered under TATA AIG Health Insurance Plan.
These exclusions are common in most health insurance policies, so it's crucial to be aware of them before purchasing a policy.
Please contact your insurance agent or representative if you have any queries regarding what is or is not covered.
TATA AIG Health Insurance Claim Settlement Ratio
You must be looking for the TATA AIG health insurance claim settlement ratio?
Let us tell you, claim settlement ration of this company is high compared some other health insurance companies.
The claim settlement ratio for this health insurance company is 94.21% for the financial year 2020-2021.
If you see, the claim settlement ration of TATA AIG health insurance plans is very good. So, you can think of it.
TATA AIG Health Insurance Reviews
TATA AIG provides both individual and group health insurance plans. In addition, the company offers a variety of extra benefits that can be added to your policy to customize your coverage. Critical illness coverage, hospital cash benefit coverage, and personal accident coverage are among the most popular added benefits.
TATA AIG's customer service is one of the things that clients seem to like the most. Tata AIG Health Insurance also offers value-added services such as cashless hospitalization, online claim settlement, and 24-hour customer assistance.
In general, reviewers believe the company is straightforward to work with and responds quickly to inquiries. However, there have been a few concerns involving billing difficulties and claims processing delays. However, reviewers agree that TATA AIG is a great company to work with.
Various independent rating agencies have continuously ranked Tata AIG Health Insurance among the top health insurance providers in India. Customers have praised the company's customer service, claim settlement process, and overall product offers.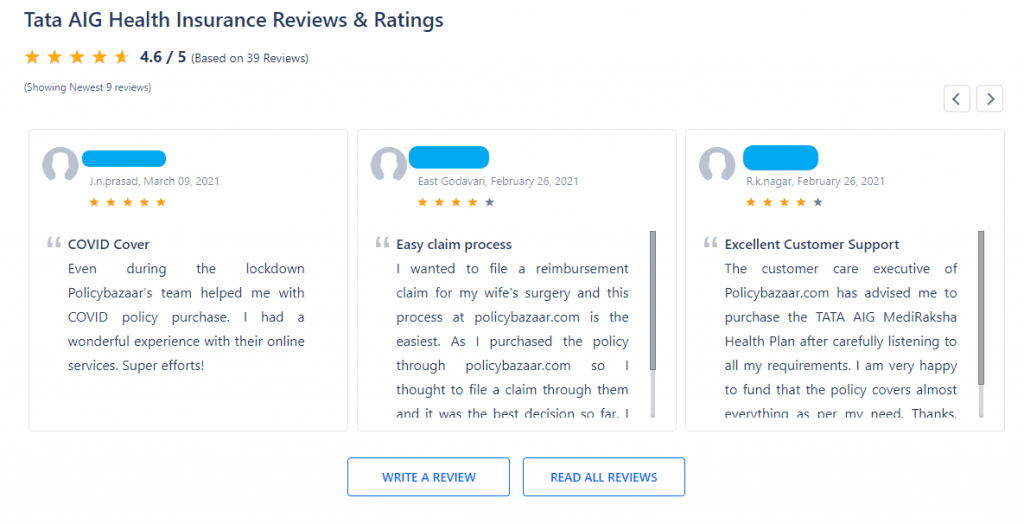 If you're thinking about using TATA AIG for your health insurance, make sure to read some customer feedback first. This will offer you a decent understanding of what others have had with the company and will assist you in making a knowledgeable decision.
Overall, Tata AIG is an excellent option for health insurance in India. It provides high-quality plans with a wide range of benefits, and it has a large network of hospitals and clinics. If you're seeking health insurance in India, Tata AIG is a great option.
Conclusion
TATA AIG Health Insurance is one of the trustworthy health insurance schemes to enter the market.
It offers the best insurance facilities and services with the lowest premium rates in India.
Be a part of the TATA AIG care for financial security and protection for your health problems.
Source: TATA AIG Health Insurance, India