Tomatoes are one of the most popular vegetables, consumed daily around the world. But do you know what health benefits they offer? In this blog post, we'll be talking about the nutritional facts about tomatoes and how their consumption can benefit your health.
From vitamins and minerals to powerful antioxidants, tomatoes have a lot to offer. We'll look at some of those benefits and why they matter to you. So if you've ever wondered what nutritional value tomatoes hold, keep reading!
Before going into detail on "Nutritional facts about tomatoes", let's know about tomatoes and their health benefits, first.
What is a Tomato?
Tomato is scientifically known as Solanum lycopersicum. Tomato is a fruit and one of the most popular nutrient-packed superfoods and is highly consumed globally.
Though botanically tomato is classified as a fruit from the nightshade family but everywhere tomato is consumed as a vegetable in their diet.
Tomatoes are typically red fruits, although there are also yellow, green, and purple varieties. The term tomato is derived from the Spanish word tomate, which is derived from the Nahuatl word tomatl. Tomatoes are enjoyed both raw and cooked in a variety of recipes.
Tomatoes have high levels of vitamins A and C. They are also high in fiber, potassium, and iron. Tomato lycopene has been connected to a lower risk of some cancers, including prostate cancer. Tomatoes have no fat and are low in calories.
Tomato contains mainly two antioxidants; one is Lycopene and the second is beta carotene. These two antioxidants can reduce the risk of cancer, and heart diseases such as arteriosclerosis and cataract formation. (1, 2, 3)
Lycopene is also responsible to give red colour to tomatoes.
Tomatoes are a good source of potassium, iron, folate and vitamin c other than lycopene and beta carotene.
Are Tomatoes Fruits or Vegetables?
If you enjoy tomatoes as much as I do, you may be wondering if they are fruits or vegetables.
It's a common question with a confusing answer. Tomatoes are technically fruits. They are the plant's ripened ovaries, which contain seeds that will develop new tomato plants.
In cooking and everyday usage, however, they are called vegetables. This is due to the fact that we prefer to use them as savory ingredients rather than sweet ones.
That's right, tomatoes are both fruits and vegetables!
Now, let's talk about the nutritional facts about tomatoes.
Nutritional Facts About Tomatoes
Tomatoes are a great source of important vitamins, minerals, and fiber.
One medium tomato contains about 19 calories, 4.3 grams of carbohydrates, 1.3 grams of dietary fiber, and 1.4 grams of protein.
Tomatoes are an excellent source of vitamin A, which is important for eye health, and vitamin C, which is involved in forming collagen and helps support your immune system.
They also contain several beneficial minerals such as chromium, copper, and potassium. Consuming tomatoes can help reduce the risk of heart disease by supporting healthy cholesterol levels.
Nutritional values of an averagely consumed round tomato per 100 g is:
Calories (Energy): 18 kcal
Fibers: 1.2 g
Carbohydrates: 3.89 g
Protein: 0.9 g
Sugar: 2.6 g
Fat: 0.2 g
Tomatoes are also the source of various minerals.
Potassium: 237 mg
Sodium: 5 mg
Calcium: 10 mg
Phosphorus: 24 mg
Iron: 0.27 mg
Manganese: 0.114 mg
Magnesium: 11 mg
Zinc: 0.17 mg
Copper: 0.059 mg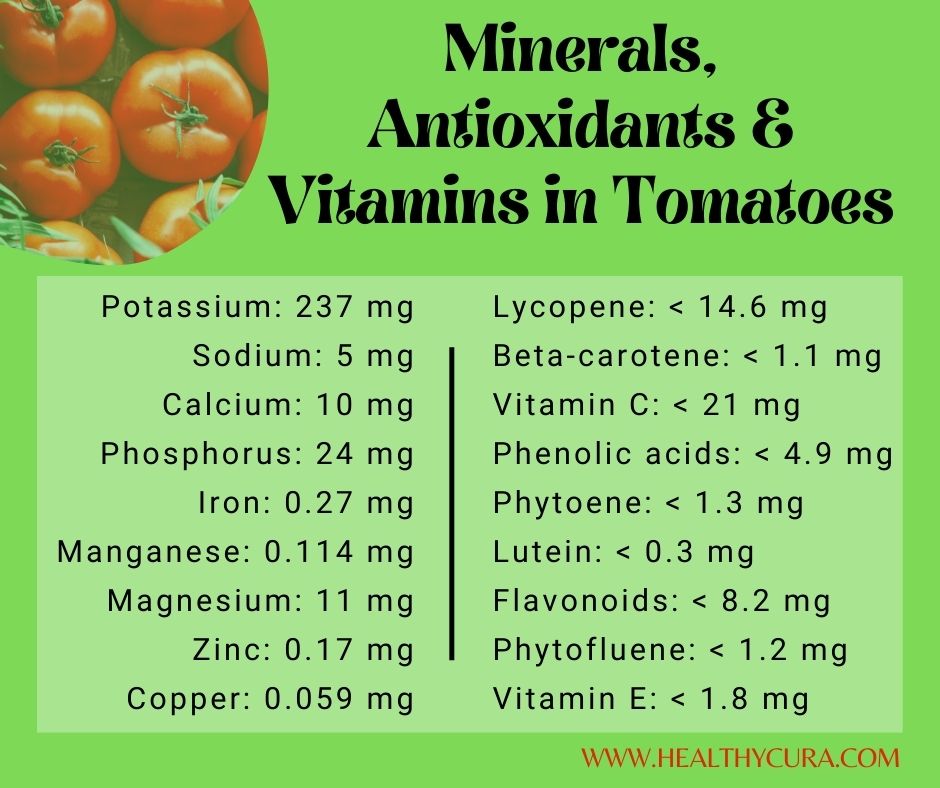 Tomatoes also contains numerous antioxidants & vitamins.
Lycopene: < 14.6 mg
Beta-carotene: < 1.1 mg
Vitamin C: < 21 mg
Phenolic acids: < 4.9 mg
Phytoene: < 1.3 mg
Lutein: < 0.3 mg
Flavonoids: < 8.2 mg
Phytofluene: < 1.2 mg
Vitamin E: < 1.8 mg
These nutritional values add numerous health benefits.
Tomatoes are a low-calorie and nutrient-rich food that offer a variety of health benefits. From vitamins A, C, and K to minerals like copper, sodium, and potassium — discover why tomatoes are an excellent addition to your diet.
So, let's find out the ample health benefits of tomatoes.
Health Benefits of Tomatoes
Tomatoes can reduce the risk for some cancer such as colorectal cancer, and prostate cancer.
Consuming tomatoes daily can reduce the risk of heart disease.
Tomatoes can be beneficial in certain brain-related disorders such as Alzheimer's disease, Parkinson's disease, and cerebral ischaemia. Tomatoes prevent brain stroke.
They have hypoglycemic properties hence they can be beneficial in diabetes by reducing blood sugar levels.
Tomatoes can also improve skin health. They prevent damage to the skin from UV rays.
Tomatoes have anti-inflammatory properties.
These are some of the health benefits of tomatoes.
Tomatoes and Heart Health Benefits
Tomatoes are one of the most healthy foods you can eat for your heart health. According to a recent study, persons who ate at least two servings of tomatoes each day had a 35% lower risk of heart problems than those who did not.
Tomato's antioxidant properties defend against LDL ("bad") cholesterol, which is a primary cause of heart disease. Tomatoes also contain lycopene, a potent antioxidant that has been found to lower the risk of stroke by more than 50%.
Tomatoes, in addition to being heart-healthy, are also high in vitamins A and C, as well as potassium. So, incorporate them into your diet for their nutritional benefits as well as their capacity to support heart health!
Tomatoes and Brain Health Benefits
Tomatoes have a lot of healthy nutrients, and they're a great way to get your daily dose of vitamin A, vitamin C, vitamin K, and potassium.
They also contain lycopene, a potent antioxidant associated with various health benefits.
It' effect on brain health is one of the most surprising possible benefits of eating them. Lycopene has been found in studies to help protect the brain against free radicals and inflammation.
These benefits may aid in the improvement of brain function and the prevention of degenerative diseases such as Alzheimer's disease.
While further research is needed to validate these benefits, eating tomatoes is a tasty and simple method to improve brain function.
So, add some tomatoes to your next meal and enjoy the tasty flavor as well as the possible health benefits!
Tomatoes and Diabetes
Tomatoes are associated with a lower risk of various chronic diseases, including heart diseases and cancers, perhaps due to their high levels of vitamin C and other antioxidants. They could also be beneficial to diabetes patients.
Increasing insulin sensitivity and decreasing blood sugar levels are two of the benefits that tomatoes have been demonstrated to offer in scientific studies. One research even discovered that eating tomatoes every day for two weeks reduced blood sugar levels in type 2 diabetic patients.
Tomatoes are also high in fiber, which helps manage blood sugar levels. So, if you want to enhance your diabetes diet, including more tomatoes in your healthy meals is a fantastic place to start!
Tomatoes and Skin Health Benefits
Tomatoes are a great food choice since they are not only tasty but also beneficial to your health in many ways. Examples of how tomatoes boost skin health:
Tomatoes are an excellent source of the antioxidant lycopene, which can prevent sunburn.
Lycopene has been linked to increased Collagen formation, which in turn helps skin retain its elasticity and young glow.
Tomatoes are a great source of vitamins A and C, both of which are crucial to maintaining radiant skin. While vitamin A is known to lower inflammation and boost cell regeneration, vitamin C is a potent antioxidant that can protect skin from free radical damage.
Tomatoes have a high potassium content, which not only helps to keep the skin moisturized but also helps to minimize redness and puffiness.
Tomatoes' acidity is another factor in preventing acne. An increase in acidity helps exfoliate dead skin cells and decreases oil production, both of which contribute to the opening of clogged pores.
Overall, tomatoes can give a variety of skin health benefits! They are high in vitamins and antioxidants, which can help protect your skin from harm and keep it looking young.
Different Types of Tomatoes and Dietary Considerations
There are a variety of different varieties of tomatoes, each with its own set of nutritional benefits.
For example, cherry tomato (small tomato) is lower in calories and higher in Vitamin C than other types.
Roma and plum tomatoes are higher in lycopene while heirloom tomatoes have an abundance of both vitamins and minerals.
Whereas, beefsteak tomatoes are high in calories due to their size.
When choosing tomatoes, it's important to consider dietary restrictions as some varieties may not be suitable for those with allergies or sensitivities.
How to Include Tomatoes in Your Diet
Tomatoes are a delicious and versatile fruit that can be enjoyed in many different ways. Here are some tips on how to include tomatoes in your diet:
Add diced tomatoes to salads for a pop of flavor and color.
Use tomato sauce to make homemade pizzas or pasta dishes.
Make a healthy salsa by mixing diced tomatoes with onions, peppers, and fresh herbs.
Roast cherry tomatoes in the oven and enjoy them as a side dish or snack.
Drink tomato juice or make your own freshly squeezed tomato cocktails.
Calories in Tomatoes and Health Benefits
The number of calories in a tomato is relatively low, containing just 19 calories per medium-sized tomato. Calories are always different for small tomato and large tomato. Tomatoes are rich in vitamins, which includes Vitamins A and C. You can look into our post content on "Nutritional facts about tomatoes" above.
Vitamin A helps keep the eyes healthy and functioning properly, while Vitamin C helps form collagen to aid in skin care as well as helping to support the immune system.
Tomatoes are also an excellent source of several minerals such as chromium, copper, and potassium that can help reduce the risk of heart disease by managing cholesterol levels and aiding cardiovascular health.
The calorie content of tomatoes varies depending on their size and variety.
Many people don't realize that the calories in tomatoes can add up quickly.
Tomatoes come in a variety of sizes and forms, ranging from small cherry tomatoes to big beefsteak tomatoes. And, while they may appear different on the exterior, they all share one thing: calories.
A small tomato has around 5 calories, a medium tomato contains approximately 20 calories, and a big tomato contains approximately 35 calories. Tomatoes come in a wide range of sizes, and their calorie counts vary depending on both size and type. A beefsteak tomato, for example, contains more calories than a plum tomato.
So, whether you're managing your weight or tracking calories, consider the variety and size of tomatoes you're eating.
Recipes with Tomatoes
Tomatoes are a nutrient-rich food with several health benefits. To enjoy the nutritious benefits of tomatoes, try the following recipes:
Tomato Soup
This healthy soup is not only delicious but also nutritious. Tomatoes are high in vitamins A and C, which are essential for immunity and skin health, respectively. They also include lycopene, an antioxidant associated with a lower risk of heart disease and cancer.
Tomato Salad
A light and delicious tomato salad composed of diced tomatoes, onions, olives, feta cheese, and an olive oil and vinegar dressing. This salad contains vitamins C and K, as well as fiber and antioxidants.
Tomato Sauce
A versatile tomato sauce that may be used in a variety of dishes such as pasta, pizza, and even a dip. Tomato sauce is high in lycopene and a great addition to any dish.
Roasted Tomatoes
A quick and easy method to obtain the nutritious benefits of tomatoes. Simply cut the tomatoes in half, brush them with olive oil, and bake in a preheated oven until the sides are slightly browned. Roasting brings out the natural sweetness of tomatoes while also making them more healthy!
Tomato Paste
Tomato paste adds taste and nutrients to your meals. Slowly boiling down tomatoes until they form a thick, concentrated paste is how it's prepared. This paste contains lycopene, as well as vitamins A and C.
Tomato Salsa
Tomato salsa is a tasty and healthful sauce prepared with tomatoes, onions, garlic, lime juice, and cilantro. This salsa is high in vitamins A and C and contains lycopene. Serve as a dip or use it to season tacos or burritos.
Grilled Tomatoes
Slice tomatoes into thick rounds and season with salt and pepper. For a great complement to any dish, grill until tender and slightly browned.
Tomato Juice
Tomato juice is a quick and easy method to receive your daily tomato dose! Simply mix fresh tomatoes until smooth in a blender, then drain through a strainer if needed. Enjoy cold or hot as a soothing beverage.
Now you see,
Tomatoes are a versatile and healthy food that may be incorporated to add flavor and nutrients to a variety of meals. Try one of these recipes now to receive the benefits of this amazing fruit!
Conclusion
Tomatoes are the fruit from the nightshade family having high nutritional values and ample health benefits.
Now, you already read about numerous nutritional facts about tomatoes.
Tomatoes are an amazing superfood that provides a wide range of nutritional benefits for our health. Not only do they offer numerous vitamins and minerals, but tomatoes are also packed with antioxidants and fiber which can help protect your body from disease and aid in digestion.
Consuming tomatoes daily can improve your heart health, brain health and skin health.
In addition to that, tomatoes can reduce the risk some of the cancers such as colorectal cancer and prostate cancer.
Eating tomatoes regularly is one of the best ways to keep you healthy, so be sure to add them to your diet today!
We hope you got everything about "Nutritional facts about Tomatoes". Hope you like the article.